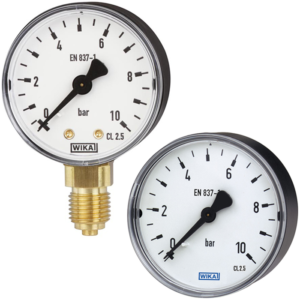 Models 111.10, 111.12
Bourdon tube pressure gauge, copper alloy
Standard version
Models 111.10, 111.12
Bourdon tube pressure gauge, copper alloy
Standard version
Applications
For gaseous and liquid media that are not highly viscous or crystallising and will not attack copper alloy parts
Pneumatics
Heating and air-conditioning technology
Medical engineering
Special Features
Reliable and cost-effective
Design per EN 837-1
Nominal size 40, 50, 63, 80, 100 and 160
Scale ranges up to 0 … 400 bar
Descriptions
The model 111 pressure gauges are based on the proven Bourdon tube measuring system. On pressurisation, the deflection of the Bourdon tube, proportional to the incident pressure, is transmitted to the movement via a link and indicated.
The modular design enables a multitude of combinations of case materials, process connections, nominal sizes and scale ranges. Due to this high variance, the instrument is suitable for use in a wide range of applications within industry.
For mounting in control panels, the pressure gauges can, depending on the process connection, be fitted with a surface mounting flange or with a triangular bezel and mounting bracket.
The standard version of the model 111 is manufactured, cost-optimised on modern production lines, in volumes of several million instruments per year.